Here are details about some of the guest teachers that we have had recently. Click here for details of forthcoming guest teacher classes.
---
Luis Rodriguez & Elizabeth Knock
Luis Rodriguez & Elizabeth Knock of 'Tango y Nada Mas' bring more than 20 years of experience in Argentine Tango to London and the UK through classes, workshops and performances. We share the Tango culture of Buenos Aires with an emphasis on the music, the embrace, the walk and social dancing. Our aim is to inspire people with this beautiful improvised dance and to build a community of like-minded dancers here in the UK.

Luis & Elizabeth improvise to Adoracion by Rudolfo Biagi at Henley, Near Ipswich, May 2018
---
 Omar Sosa
Omar Sosa was born and rised in the heart of a traditional family of tangueros in Buenos Aires. He studied classical ballet, contemporary dance and choreographic composition at the prestigious San Martin Municipal Theatre Contemporary Dance School and tango with the most famous masters milongueros of the genre such as, Antonio Todaro, Mingo and Esther Pugliese, Pepito Avellaneda, Juan Carlos Copes, Raúl Bravo and Gustavo Naveira. His work as dancer, teacher and choreographer spans from 1979 to the present day, and covers theatre, film and television in America, Europe, Africa, Japan and Australia.
In 1984, Omar landed his first role dancing tango in the Argentinean French film "Tangos, the Exile of Gardel". Since then Omar with his personal, graceful, elegant and aesthetic style has dance in the major tango shows in Buenos Aires as "La Ventana", "Señor Tango", "Michelángelo", "El Viejo Almacén" and "Esquina Homero Manzi" among others. He has also worked on the shows of the maestros Mariano Mores, Rubén Juárez, Omar Valente, Osvaldo Requena, Julián Plaza, Walter Ríos, Carlos Buono, Atilio Stampone, Ernesto Franco, Cristian Zárate, Néstor Marconi, Carlos Galván, Orquesta El Arranque, Quinteto Real, Los Reyes del Tango, Color Tango, Bajo Fondo Tango Club and Orquesta Juan D'Arienzo. In television, Omar danced for three consecutive years in the television tango programmes "La Noche con Amigos" and "Los Amigos del Tango" broadcast by ATC (Argentina's equivalent to the BBC).
The Contemporary Ballet Company of the Astor Piazzolla Foundation contract Omar extensively for work in 1998. Then in 2003, Omar joined the cast of the operetta "Maria de Buenos Aires" by Astor Piazzolla in France under the direction of Alfredo Arias and Ana Maria Steckelman. this well know operetta then toured Buenos Aires in 2009 under the direction of Marcelo Lombardero and Oscar Aráiz.
Omar's thirty year career is highlighted by his work being presented in the main theatres around the world, at The Department of State of The White House in Washington, receiving and dancing personally for The Crown Prince of Japan, as a member of Argentina's Presidential Commitee of Entertainment performing for official and private presidential events and at the world congresses of Visa International, Toyota Motors Company and United Airlines.
His teaching experience in tango salon is supported by, not only his work as a dancer and choreographer, but also by his profound knowledge of body language, biomechanics, and motion analysis. Omar has taught at various dance studios, academies and companies worldwide, and most notably at The Tango University of Buenos Aires and at The Academical National Art Institute in Buenos Aires (IUNA).
---
Raquel Greenberg
Raquel Greenberg started dancing when she was 6 years old. 12 years of ballet and contemporary were the foundation that followed. In 1991 she started Latin and Ballroom and competed in international dance competitions. In 1998 she discovered and was swept away by the Argentine tango. From 2001 she based herself in Buenos Aires where she was teaching and performing.
Her personal style is the outcome of fusion between traditional tango and modern tendencies, having worked with old maestros and leaders of 'new age' tango. Her guidelines are elegance, grace, musicality and aesthetics within the embrace.
Raquel has performed as tango dancer in numerous theatres around the world, since 2005 she is touring the world giving master-class workshops and performing. In 2012 she moved her base to London at which time she formed a close affection for working with Suffolk Tango and its dancers. In 2014 she was voted UK Tango Teacher of the year and Performer of the Year in the LUKAS awards.
Raquel's Website: www.raquel-tango.com
---
 Diego Reimer
Charm, Charisma, Style and Sense of Humour!  Diego 'El Pajaro' Reimer, artist in dance and music, took up tango in Buenos Aires, his hometown and learned from the 'old' dancers and milongueros.  In 2000 he left for Europe and established himself in Berlin, then Lyon where he became a reference and inspiration for many dancers, especially for his musicality in tango and his way of dancing milonga.
As a former drummer, he explores the rhythms of the tango, waltz and milonga in a very particular manner.  Owner of a unique and original musical expression in his dancing and improvisor par excellence, he is internationally recognised and sought for his exploration of the traspie and rhythm, the caminata and giros with adornments (enrosques and lapices), and above all his sense of humour in tango.
TANGOAMADEUS 2012 Maria Belén Giachello & Diego Riemer "el Pájaro":
---
Mabel Rivero
Mabel says :"My classes aim to convey ways of improvisation as well as profound physical analysis and a practical understanding of the roles in Tango, so that we can create a smooth, playful dialogue with the music, with space and with each other."
Mabel's website: www.mabelrivero.com
Junior Carvalho and Mabel Rivero dance to TANGO ! (Pa' Baila):
Mabel Rivero y Martin Lorenzo Corazón de Oro:
---
Amir Giles
Amir Giles has danced Argentine tango for over 15 years, taking several extended trips to Buenos Aires to study with masters of the dance past and present. He has performed and choreographed for television, theatre and numerous dance events including the Royal Opera House, Opera North, Ipswich Dance Theatre and more. He has taught in Buenos Aires, Berlin, Paris, Auckland and of course at many of London's most important Milongas and Dance schools including Negracha, The Royal Ballet School and The Dome. Most recently he was tango coach on 'The Bodyguard' the musical and has peformed on the series of Mr Selfridge, on ITV and PBS. When not performing Amir prefers a close embrace style that focuses on connection to music and partner, drawing on tango's rich heritage to inspire a dance relevant to the 21st century.
Trained at the Rambert School of Ballet and Contemporary Dance, Amir has worked for choreographers such as Arthur Pita, Kate Flatt, Kim Brandstrup, Alex Reynolds and Jenni Wrenn for companies including the Royal Opera, English National Opera, Slanjayvah Danza, Sugarfoot Stompers and Livid Productions. Roles include Tony Piccinni in Arthur Pita's 'Worlds Greatest Show' at the Royal Opera House and on tour, swing dancer in the upcoming MARVEL Avenger's sequel, MR Gomerez in ITV's Mr Selfridge, and understudy to Edward Watson in a Royal Ballet production of Metamorphosis, at ROH and Joyce Theatre, New York.
Amir has worked with Paramount Pictures, Boy George, Film Four, The Live Theatre, Harbringer Theatre Company, Royal College of Music, Kate Flatt Productions, Library Theatre Company, the Linbury Theatre Royal Opera House, Watford Palace Theatre and Greenwich Dance Agency. Amir has produced and choreographed several of his own works, shown at Kings Place, RichMix, Pulse Festival, Ipswich Playhouse, Rojo y Negro Tango festival and The Place.
Amir has extensive experience with several vernacular partner dance forms specialising in Argentine Tango and Lindy Hop. He has taught at The Royal Ballet School, The Royal College of Music, Body Guard – The Musical, The Royal Ballet and for productions at the Royal Opera House and the Royal Albert Hall, multiple major Tango schools in London as well as guest teaching in Paris, Berlin, Buenos Aires and Spain.
See Amir's website www.amirgiles.com

Tango-themed advert for Channel 4 featuring Amir

>Amir and Laura de Altube at Eclipse June 2010

Amir & Tara give the cabaret at Blackpool May 2011
---
Siobhan Richards
Siobhan Richards has danced Argentine tango for more than 10 years and since 2007 has taught with several partners under the name of her school Las Rosas del Tango. Besides her tango school she is also a body psychotherapist in private practice.
Her teaching focusses on the connection between the dancers and with the music, and a subtlety of movement that comes from relaxing into the dance.
Video after one of her classes:
---
Gabriela Fernandez
Gabriela Fernandez demo in France

---
Michael Lavocah
Michael Lavocah emphasises dancing as a joyful and natural activity. The beginning is awareness: of the body, of one's partner, and of the music. The dance then emerges organically as the response of the couple to each other and the music, structured only by the desire of the couple to remain in deep contact with one another. He is especially known for his knowledge of tango music, his understanding of the special flavour of milonga, and his ability to simplify complex ideas and movements.
He is regularly invited to Tango Events such as the 'Tango Mango' in Devon and the 'Taboe camp' in The Netherlands, and also works internationally as a Tango DJ. Together with his teaching partner Siobhan Richards he runs Tango Vacations each year in beautiful natural locations in France & Italy. He is the author of the book 'Tango Stories' which describes the music and the development of the major tango orchestras.  More details about Tango Stories, Musical Secrets – The guide to tango dance music
---
Steve and Debbie Morrall
Steve and Debbie Morrall run Tango UK in Bramshaw.  See their website:www.tango.uk.com
Steve's work on tango musicality receives award from sallycatway.com in Buenos Aires:
SallyCat in Buenos Aires has awarded an ABBBA to Steve for his exciting and original work in the field of development of musicality in tango dancers; especially, his weekly workshops in Advanced Musicality at Bramshaw Tango (which I would love to attend one day), and this brilliantly clear and effective chart of tango orchestras through time.
"Steve has always been an inspiration to me because of the strength, passion and generosity in his tango heart, the wide range and quality of the tango events that he runs with his wonderful wife Debbie, and the musical genius that he brings to the British tango page", SallyCat writes in her blog.
One of his dancers writes:
"There are defining moments in one's life, and certainly in my tango journey that seem to move me on. Thank you for being one of them for me.
You are a great teacher – funny, witty, sensitive, use lovely visual images and have an ability to draw out what is hiding in the drama and emotions of the dance. I loved your piano playing and your kind, expressive nature – thank you for it all."
Steve's teaching experience:
Steve is a life-long musician and creative artist and graphic designer. Before tango, Steve was a partner in a graphic design company since 1981 and more recently developed his teaching skills as an IT trainer for a national charity and as a horse-riding instructor. Both these teaching roles helped him to evolve a pedagogical interaction with people and an understanding that effective teaching requires the multilateral development of a student's mind, body and spirit.
---
Caro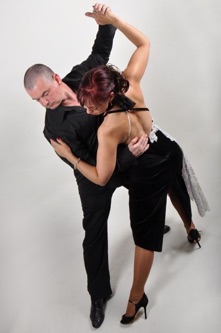 Caro is an experienced and highly talented instructor and performer, with over 10 years teaching experience.
Her teaching base for regular classes and privates is the Factory (North London). Currently performance training with Pablo Alonso.  She also works with Oliver Kolker to run a Tango-Experience Tours to Buenos Aires from London.  More details at www.tangoexperience.com. Facebook group – cactus-tango
---
Kate Isotta and Tony Ramsay
Kate and Tony from Tango Abrazo in Norwich are renowned for their ability to simplify the most exciting and elaborate steps into simple techniques to ensure that what is learned can be led (or followed) with any partner. As well as being one of the best teaching couples in the area they are an inspiration to watch for the way in which they make the dance flow and appear so easy.